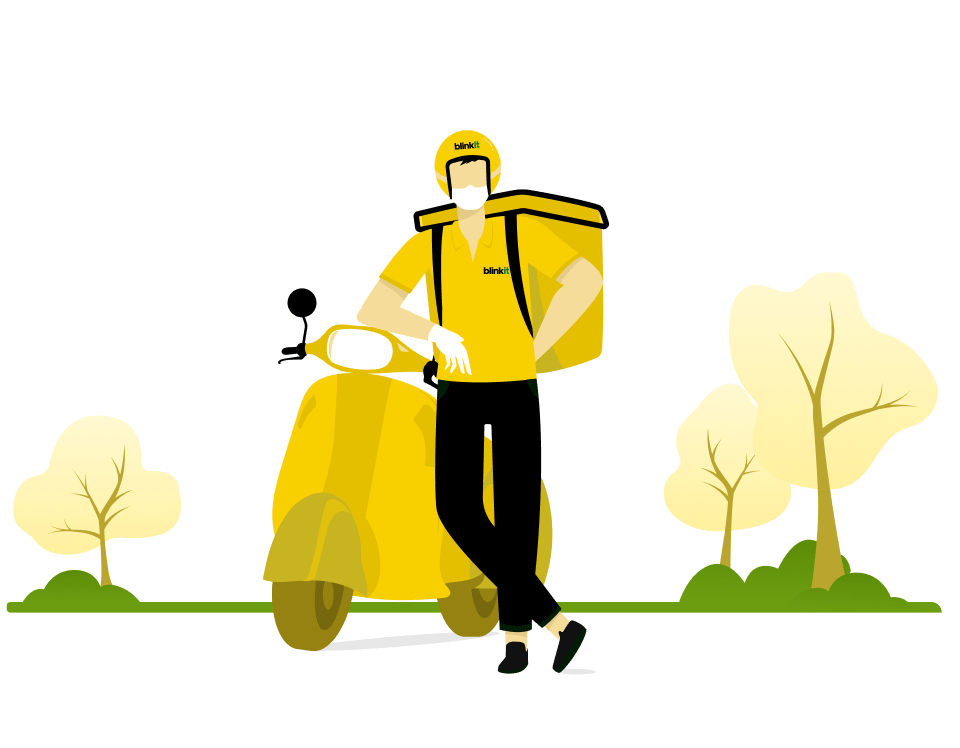 Delivery partner
Help Indians stay at home by delivering essentials
Come deliver joy to Indians
To deliver orders for Blinkit, please fill this form
Join India's most loved grocery shopping platform
Become a delivery partner on your own schedule and get best in class pay and many other benefits. We are always looking for people who take exceptional pride in being able to deliver essential products to Indians, in the best way possible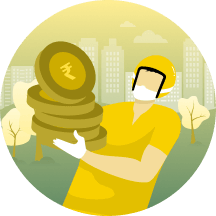 Earn upto Rs 30,000/- with incentives and other benefits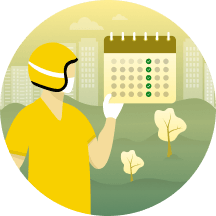 Payment made every 7 days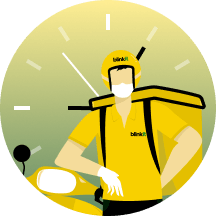 Be your own boss; choose your work hours - 4, 8 or 10 hours

I've been with Blinkit since the last one year and I am the only female delivery partner here. I know this is unconventional, but it is safe and respectable work. I am happy

I've been with Blinkit for three years and I feel extremely proud of being associated with a company that not only enables me to make a living and fulfill my family's basic needs but also supports innumerable people every day

The best part about working with Blinkit is the flexibility in the working hours, once I have completed my slot of deliveries, I am able to spend time with my family and friends every day. Working here has brought financial stability in my life

It's been more than two years since I'm working with Blinkit and every day has been an opportunity to showcase my hard work and make a living through it. The best part about working here is that my earnings are based on my capabilities
Frequently asked questions
Who are Blinkit delivery partners?
They are independent contractors who partner with Blinkit to pick up grocery items ordered by consumers on the Blinkit app and deliver those items to the convenience of the consumers doorstep. They use their own 2-wheelers to make these deliveries and pick their own schedule
Are there any specific requirements I need to meet to become a delivery partner with Blinkit?
Yes, here's a quick list for your reference:
Be 18 years of age or older

Own a two-wheeler

Own an Android phone with an active internet connection

Have a valid driving license, registration certificate (RC), insurance certificate and PAN (Permanent Account Number) card

Have an address proof and active bank account
How do I become a delivery partner with Blinkit?
It's simple, here are the 2 easy steps to become a Blinkit delivery partner:
Step 1:   fill the above form

Step 2:   our team will connect with you for the further process
What are the work timings?
The working hours are flexible and you have an option to choose your own slots. We are happy to share more information at the time of your interview
When will I start getting the orders to deliver?
Once you submit all the required documents and your registration is complete with us, our team will run a background verification check. On successful clearance of the same and completion of the onboarding and delivery training module, you will be eligible to start working and delivering orders with us
What is the mode of payment?
The earnings you make will be transferred into your bank account on a weekly basis
Do I get any bonuses?
Yes, we offer two kinds of bonuses:
Joining Bonus: once you join us and complete a certain number of order deliveries within a specified time frame, you will receive this bonus 

Referral Bonus: you can refer your friends to become our delivery partners to avail this bonus
Is there any joining fees to get on-board as a Blinkit delivery partner?
Yes, a one-time joining fee is applicable during the on-boarding process. This is collected for various training and support purposes. More details will be shared at the time of your interview
How much can I earn?
We follow the 'per packet model', wherein, your earnings will be based on every delivery you make. Plus, you also get additional incentives based on the weight you carry and the distance you cover